Are you planning a visit to Grand Teton National Park on your upcoming trip to Wyoming? You've made a great decision!
Situated immediately south of the iconic Yellowstone National Park, Grand Teton is often overlooked.
But this spectacular park in Jackson Hole Valley is home to pristine wilderness, winding rivers, glacial lakes, diverse wildlife, and, of course, the awe-inspiring Teton Range.
There's a lot to explore in nearly 500 square miles of land, and our Grand Teton tours are the perfect place to start.
To show you the kind of adventures that await, we've put together a list of the best things to do in Grand Teton National Park.
Please note, this is a list of suggested activities you can enjoy while visiting Grand Teton National Park. Not all listed experiences are applicable to our tours.
Keep scrolling down to find out our recommendations. And If you have any questions about our tours in Grand Teton in the meantime, please feel free to get in touch.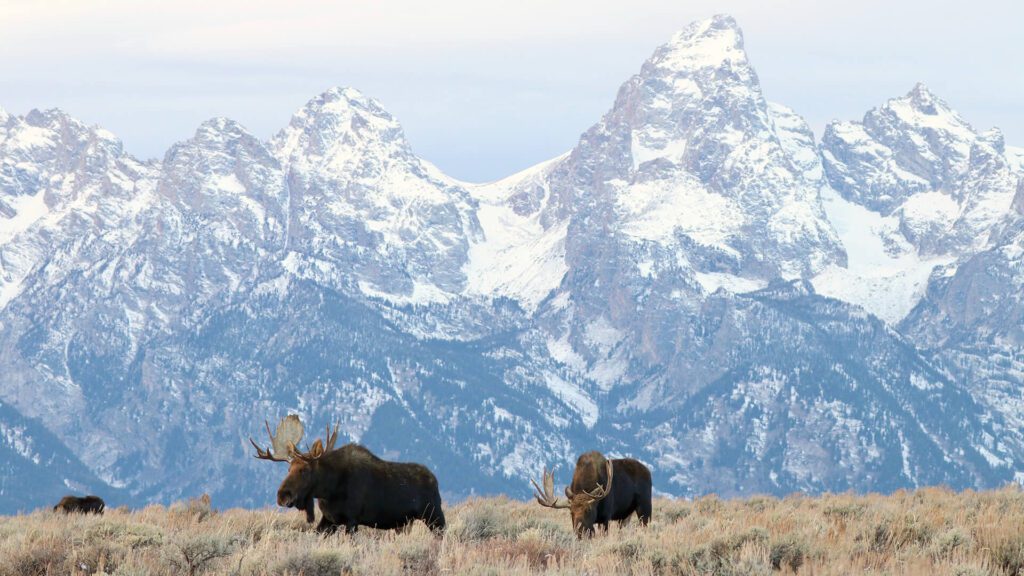 Enjoy World-Class Wildlife Viewing
Grand Teton National Park is home to an extraordinary range of wildlife, including numerous apex predators.
Just some of the animals you can find in the park include:
Moose
Elk
Bison
Wolves
Pronghorn
Grizzly Bears
Both our Grand Teton Day Tour and Grand Teton and Beyond Multi-Day Tour include wildlife viewing.
With our local knowledge of where animals like to be and when, as well as our professional spotting scopes and binoculars, you will have an unforgettable experience.
Take in the Perfect Views of Mormon Row
Mormons from Salt Lake City settled in the Grand Teton region in 1890. They established 27 homesteads, all of which are incredibly well-preserved to this day.
If you're an early riser, visiting Mormon Row at sunrise is easily one of the best things to do in Grand Teton National Park.
The iconic shot of one of the historic barns framed by the Tetons behind attracts photographers from near and far.
To underline Mormon Row's historic importance, it was added to the National Register of Historic Places in 1997.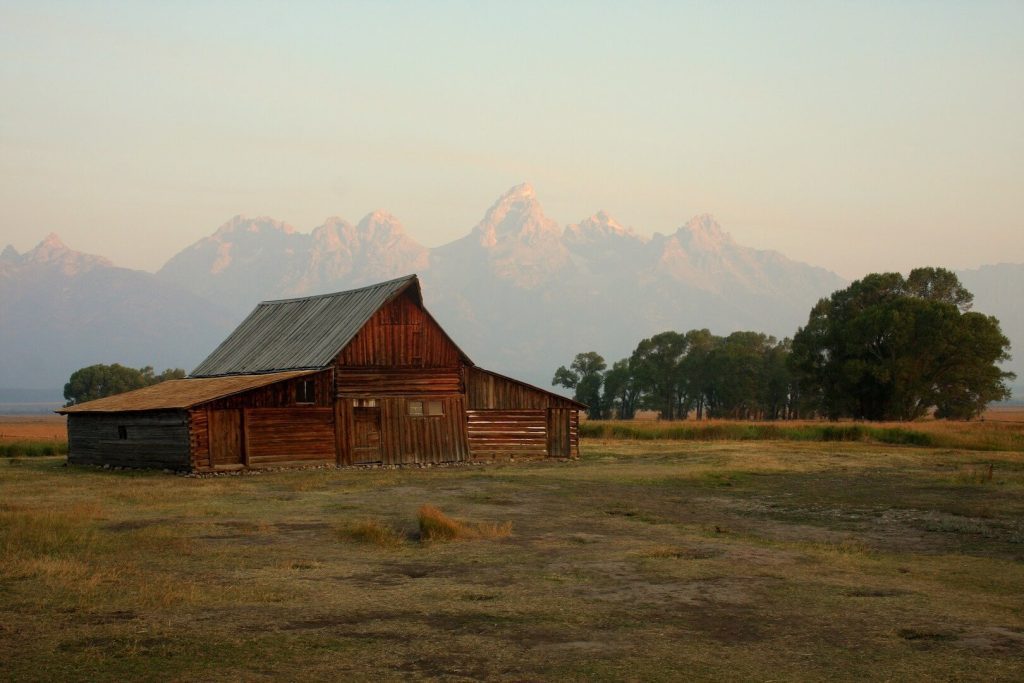 Soak Up More History at the Chapel of Transfiguration
A short drive from Mormon Row, you can find another of Grand Teton National Park's historic sites.
This picturesque log chapel dates back to 1925. It's another great photo opportunity as the rugged mountain range looms large behind.
St John's Episcopal Church provides Sunday morning services here during the summer season.
Go Kayaking or Canoeing on Jenny Lake…
Jenny Lake is a beautiful glacial mountain lake, and one of the most picturesque in Wyoming.
With kayak and canoe rental options, you can push out from the shore and find some solitude — and jaw-dropping mountain views!
Even in summer, if you head out onto the water early enough, you may even find you're the only visitors enjoying the surroundings.
However, the parking lot fills up quickly and is usually full by around 9am, so you'll need to arrive comfortably before then.
This is one of the activities that we do not provide on our tours.
However, if you want to take in Grand Teton National Park from a different perspective, we can set you up on a scenic boat ride with Jenny Lake Boating.
Remember, you can enjoy a combined trip to Grand Teton and Yellowstone national parks with Teton Excursions.
Check out our 2-Day Grand Teton and Yellowstone Tour to learn more.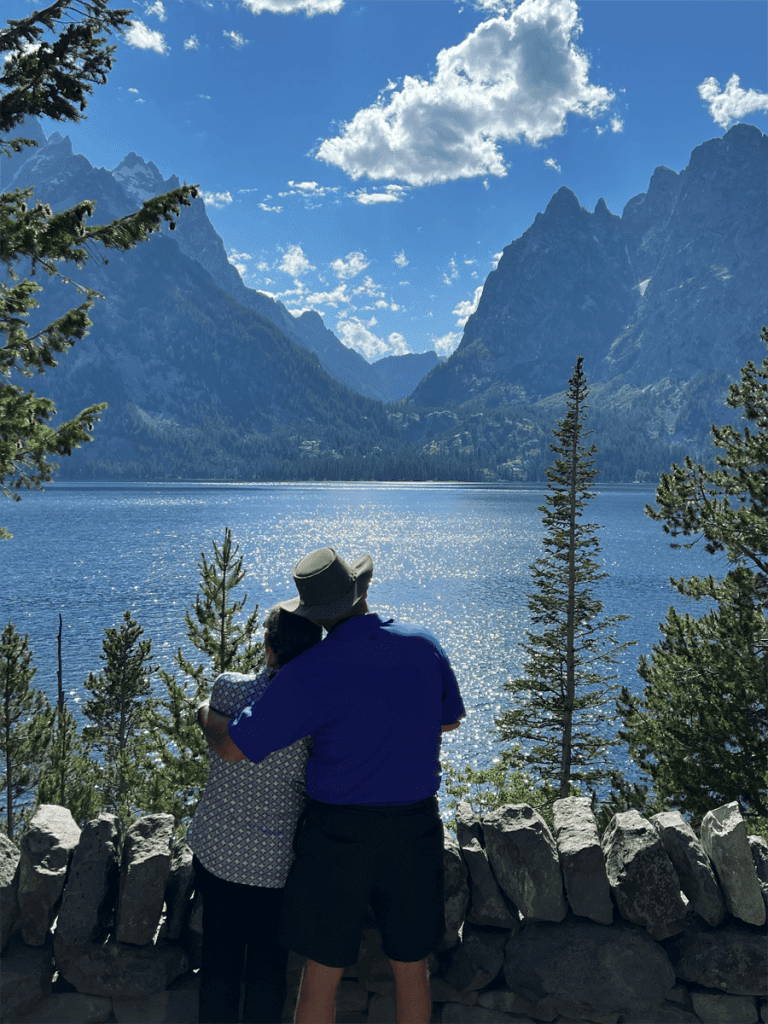 …or Hike the Jenny Lake Loop Trail!
There are several trails around Jenny Lake, but we're opting for the Jenny Lake Loop Trail.
This hike's essential information is:
Difficulty: Moderate
Distance: 7.9 miles
Time: 3 to 5 hours
Elevation Gain: 600 feet
This trail is suitable for people of all ages, making it a great addition to a family or couples' vacation.
And you don't need to complete it either. You can hike for as long as you want to before turning around and making your way back again.
But if you're feeling up to it, you can hike around the entire lake and even head to Inspiration Point.
It's important to note that no tour companies, including Teton Excursions, provide hiking tours in Grand Teton National Park.
If you want to hike the Jenny Lake Loop Trail (or to Inspiration Point and Hidden Falls in the next section), you can do so as part of your own adventure.
Head Up to Inspiration Point and Hidden Falls
Inspiration Point and Hidden Falls are on the Cascade Canyon Trail, not the Jenny Hike Loop trail.
However, if you want to try both paths, it's easy enough to switch from one to the other on the lake's western shore.
Inspiration Point is an elevated viewpoint looking out over Jenny Lake, providing a sweeping vista of the lake and surrounding area.
Hidden Falls is a cascading waterfall where water plunges 100 feet down a steep rocky incline.
Are you looking to explore the Wild West beyond Grand Teton? Browse our range of Wild West tours and see how we can extend your adventure!
Drive Up Signal Mountain!
At 7,720 feet high, Signal Mountain is Grand Teton National Park's highest point. For most visitors, no trip here is complete without driving up to the summit.
From your position at the top of the mountain, you have breathtaking panoramic views across the park, including Jackson Lake and the Teton Range.
And don't miss out on Jackson Lake Overlook! A two-minute walk from Signal Mountain Summit, this scenic viewpoint offers even more jaw-dropping views.
It only takes 15 to 20 minutes to drive the 4.4 miles of Signal Mountain Road. The road itself is wide enough to fit two cars and it has plenty of switchbacks and bends.
You can find parking lots at the summit and Jackson Lake Overlook.
It's important to note that this road is closed between November 1st and mid-May.
But when it is open, trips up to Signal Mountain's summit are one of the highlights of our tours!
If you're planning a visit in the winter, our Grand Teton Winter Wildlife Tour will show you everything this wonderland has to offer when the temperature drops.
Take Your Pick of Activities Around Jackson Lake
Put simply, Jackson Lake is huge!
It has a maximum length of 15 miles (24 km), a maximum width of 7 miles (11 km), and its deepest point is 438 feet (134m) below the surface.
With ample opportunities for fishing, boating, hiking, kayaking, and canoeing, this is a paradise for outdoor enthusiasts.
There's even a swimming beach and picnic area at Colter Bay.
With spectacular viewpoints scattered around the shore and numerous lodge accommodation options, everyone can find their perfect Jackson Lake experience.
Catch a Sunrise Reflection at Schwabacher Landing…
Grand Teton National Park is at its most magical in the hours when the sun rises. During this time, already awe-inspiring sights take on an additional glow.
One of the most scenic views in the park is at Schwabacher Landing. Here, you can see the Teton Range reflected on the surface of the Snake River with incredible clarity.
This is a wonderful spot to simply sit in the tranquility of the moment or to take some amazing photographs.
If all this travel inspiration is giving you ideas for a tailor-made itinerary, our custom trips in Grand Teton can bring it all together!
…and the Reflection at Oxbow Bend
For some people, the best place in the entire park to watch a sunrise is Oxbow Bend.
On a clear day, you can see a crisp reflection of Mount Moran on this stretch of the Snake River.
Given its popularity, the limited roadside parking can become full of photographers looking for the perfect sunrise shot, so arrive early!
This part of the river is also renowned for its wildlife, so keep your eyes peeled for animal sightings.
Our Grand Teton Tours Provide the Complete Experience!
We hope this list of the best things to do in Grand Teton National Park has inspired you to visit.
When you join one of our Grand Teton tours, your time in the park is even more rewarding.
Led by a friendly naturalist guide, you can learn about geological facts and local history. Our local insights elevate your Grand Teton experience to the next level!
Are you ready to start planning your adventure with Teton Excursions? Please don't hesitate to get in touch with us for all the information you need.