Yellowstone National Park is one of the most beautiful, diverse, and iconic national parks in the United States.
For many people, a trip to Yellowstone is a bucket list adventure — a unique opportunity to make memories that last a lifetime.
With its stunning landscapes, unique geothermal features, and abundant wildlife, there's never a bad time to visit.
However, depending on your interests and priorities, some seasons may be better suited to your needs than others.
As a local leader in Yellowstone tours, we have spent years exploring this special place, so let us help you find your best time of year to visit.
Keep scrolling down to find out more! And if you have any questions for us in the meantime, please feel free to get in touch.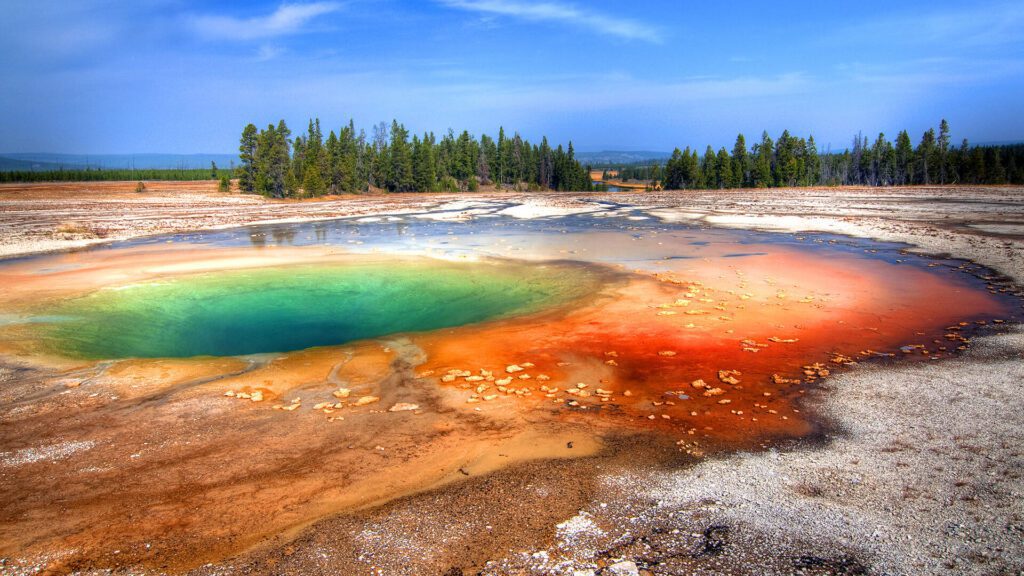 What is the Best Season to Go to Yellowstone National Park?
Summer in Yellowstone: Sunny Skies and Bustling Crowds
Summer is the most popular time of year to visit Yellowstone, and for good reason.
The weather is warm and sunny, making it an ideal time for hiking, camping, and many more outdoor activities.
The park's famous geysers, hot springs, and other geothermal features are also at their most active during the summer months.
However, as the most popular time to visit Yellowstone, summer is also the busiest time of year.
The lines are at their longest, the traffic at its heaviest, and the trails and attractions at their most crowded.
If you're planning to visit in the summer, be sure to book your accommodation and activities well in advance.
Wildlife viewing is generally great in the summer. This season is especially good for seeing bison, moose, elk, and mountain goats.
During the hotter months, bears typically stick to higher ground.
To ensure you get the best experience during this busy period, consider joining our expert-led 2-Day Yellowstone Tour.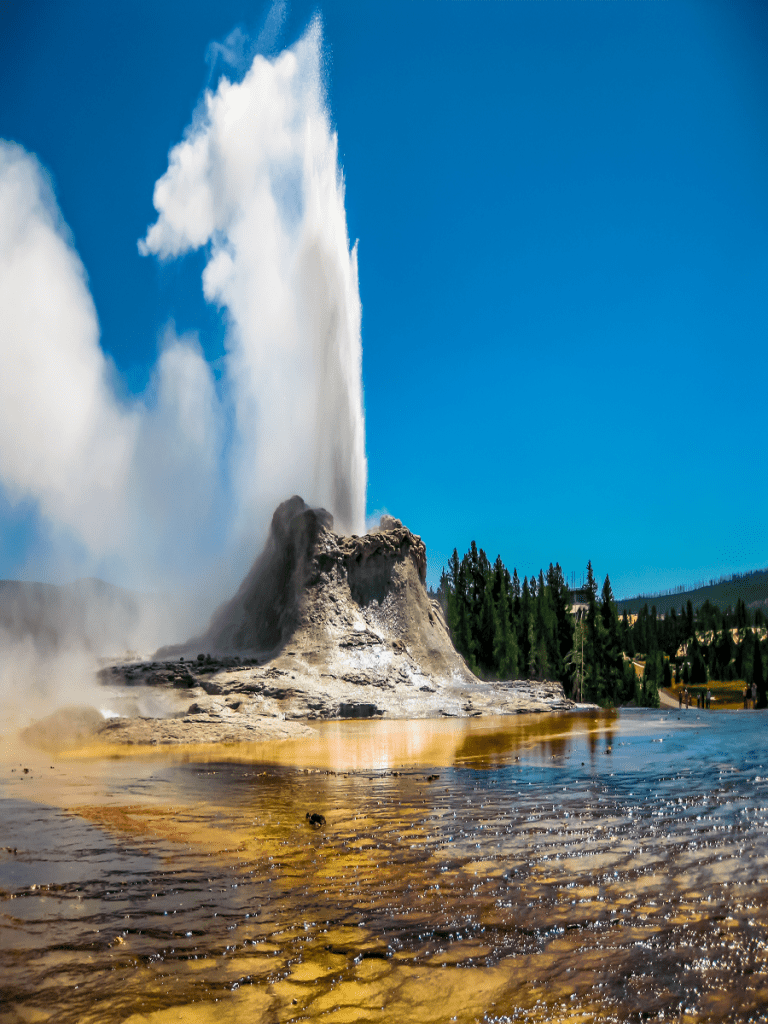 Fall in Yellowstone: Colorful Leaves and Active Wildlife
As the temperatures drop and the leaves start to change color, Yellowstone transforms into a different kind of paradise.
The fall colors are stunning, with vibrant yellows, oranges, and reds painting the landscape.
Wildlife is also active during the fall, as animals prepare for the upcoming winter.
You can still spot elk, moose, and bison, while the bears in Yellowstone start to roam around more as they forage for food and mate.
The crowds also start to thin out in the fall, making it a more peaceful and relaxing time to visit.
However, some facilities and attractions may start to close for the season in late September or early October.
Winter in Yellowstone: A Winter Wonderland
Yellowstone is truly a winter wonderland during the colder months.
Snow and ice transform the park, creating a magical landscape that's unlike anything you've ever seen.
Visitors can enjoy activities like cross-country skiing, snowshoeing, and snowmobiling, or simply take in the beauty of the winter scenery.
The crowds are also much smaller during the winter, so it's a great time to visit if you're looking for a tranquil, quiet escape.
However, many of the park's roads and facilities are closed during the winter months, and extreme weather conditions can make travel difficult.
Be sure to check the weather and road conditions before you head out, and come prepared for the cold and snow.
Check out our previous blog, What Should I Wear in Yellowstone?, for more information about packing appropriate clothing.
When it comes to wildlife, the winter months are best for spotting bighorn sheep and wolves.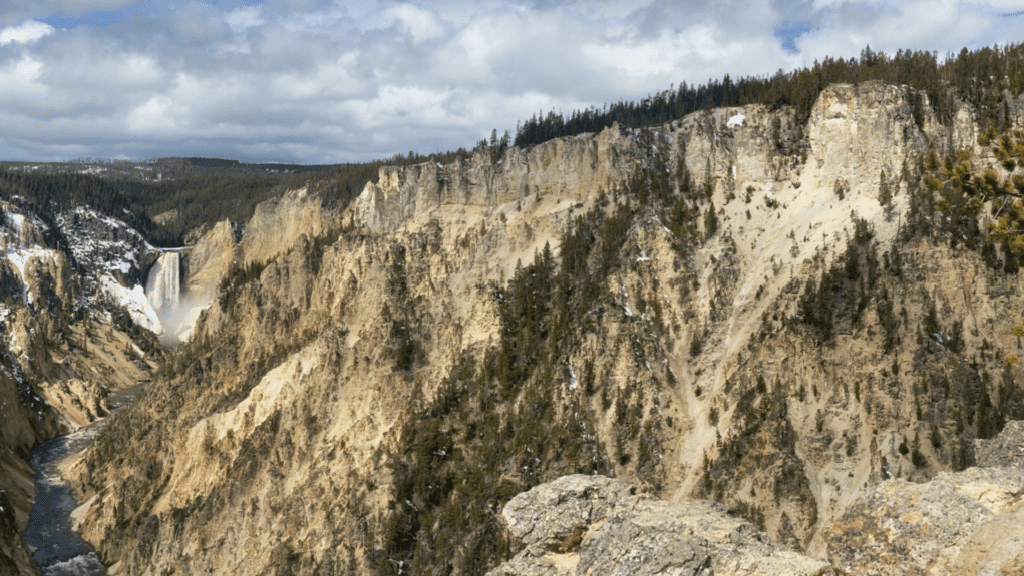 Spring in Yellowstone: New Life and Emerging Wildlife
As the snow starts to melt and temperatures rise, Yellowstone comes back to life in the spring.
The park bursts with new growth, as trees and flowers bloom and animals emerge from their winter hibernation.
Visitors can spot baby animals like bison, elk, and even wolves, as they explore their new surroundings.
Bear spotting in Yellowstone is at its best between mid-April and the first week of June.
The bears wake from their long slumber starving, so they head to lower elevations where the snow has melted for easy food.
If bear spotting is a priority for you, take a deeper dive into this topic by reading our previous blog, What is the Best Time of Year to See Bears in Yellowstone?
The crowds are also much smaller in the spring, making it an ideal time to visit if you want to avoid the summer rush.
However, some roads and facilities may still be closed due to snow and ice, so be sure to check ahead before you go.
Explore Yellowstone With Teton Excursions!
Whether you prefer the warm and sunny days of summer, the colorful leaves of fall, the winter wonderland, or the emerging wildlife of spring, Yellowstone has something for everyone year-round.
Just be sure to plan ahead, come prepared for the weather, and leave no trace behind as you explore this beautiful and unique national park.
If you want to start planning an unforgettable trip, browsing our Yellowstone tours is the perfect place to start.
For more information about any of our excursions, please don't hesitate to get in touch.