Yellowstone National Park is one of the most unique and spectacular destinations in the world.
People travel from near and far to explore the awe-inspiring natural wonders it has to offer.
As a local leader in Yellowstone tours, we have spent countless hours exploring this incredible park.
We love sharing our passion for Yellowstone, and we want you to get the most out of your visit here.
To help ensure you have a trip you never forget, we have listed some of our tips for the best things to do in Yellowstone National Park below.
Grab your camera, lace up your hiking boots, and let's explore! If you have any questions for our team in the meantime, please don't hesitate to get in touch.
Watching Old Faithful Erupt is an Absolute Must
No trip to Yellowstone would be complete without a visit to Old Faithful, the most famous geyser in the park.
Old Faithful is located in the Upper Geyser Basin and erupts approximately every 90 minutes, shooting water up to 180 feet in the air. It's truly a sight to behold!
We recommend arriving at the Old Faithful Visitor Education Center at least 30 minutes before the predicted eruption time to secure a good viewing spot.
All our Yellowstone tours include a trip to Old Faithful, starting with the Yellowstone Day Tour.
See if You Get Lucky at Steamboat Geyser
While Old Faithful may be Yellowstone's most famous geyser, Steamboat Geyser is the world's tallest active geyser.
When it erupts, it shoots water up to 300 feet in the air!
Located in the Norris Geyser Basin, Steamboat's eruptions are unpredictable. It can sometimes go years without erupting.
But if you're lucky enough to witness one, it's an unforgettable experience.
Take in an Eruption at Castle Geyser
Castle Geyser, located in the Upper Geyser Basin near Old Faithful, is another of Yellowstone's most impressive geysers.
It erupts approximately every 12 to 14 hours, with eruptions lasting as long as 20 minutes.
The expelled water can reach heights of 90 feet.
What sets Castle Geyser apart from the others is its beautiful cone shape. This feature resembles a castle, from which the geyser takes its name.
Marvel at the Colors of Grand Prismatic Spring
Grand Prismatic Spring is the largest hot spring in the United States and one of the most popular attractions in Yellowstone.
The spring's vivid colors of orange, yellow, green, and blue are caused by pigmented bacteria that thrive in the hot water.
Head to the boardwalk surrounding the spring for the best views of this visually stunning site.
If you want to avoid the largest crowds, aim to visit early in the morning or later in the afternoon.
In addition to the day tour, you can see Grand Prismatic as part of a complete experience on our 2-Day Total Yellowstone Tour.
Discover as Many Hot Springs and Bubbling Mud Pots as Possible
Yellowstone is home to over 10,000 geothermal features, including hot springs and bubbling mud pots.
These fascinating natural wonders are caused by underground volcanic activity and provide a unique glimpse into the earth's geology.
Some of our favorite hot springs and mud pots include the Artists' Paintpots, Fountain Paint Pots, and Mud Volcano.
If you'd like to learn more about the park's geothermal features, consider our 2-Day Lower Loop Deep Dive Tour.
Feel the Force of Yellowstone Falls
Located in the Grand Canyon of the Yellowstone, Yellowstone Falls is one of our favorite spots in the park.
And it's just as popular with our guests too!
The falls consist of two main sections: the Upper Falls, which drop 109 feet, and the Lower Falls, which drop 308 feet.
There are several viewing points along the South Rim Trail, including Artist Point, which offers a jaw-dropping panoramic view of the falls and canyon.
Are you wondering when you should make your trip? Read our blog When is the Best Time of Year to Visit Yellowstone National Park? for all the helpful information you need.
Safely View Yellowstone's Iconic Wildlife
One of the most thrilling experiences in Yellowstone is wildlife viewing.
The park is home to a diverse range of wildlife, including bison, elk, moose, wolves, grizzly bears, and black bears.
Remember to always keep a safe distance and never approach or feed wildlife.
If you're especially keen on seeing bears, check out our previous blog What is the Best Time to See Bears in Yellowstone? to ensure you maximize viewing opportunities.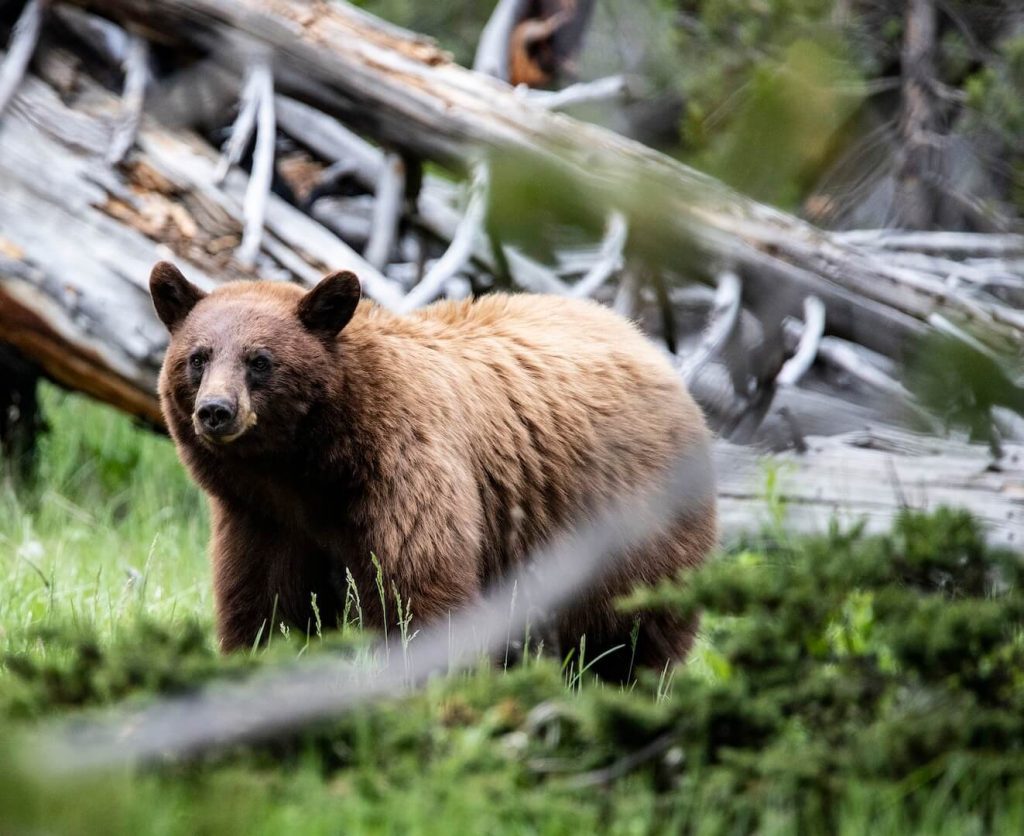 Our Yellowstone Tours Provide the Complete Experience
From the awe-inspiring geysers to the stunning waterfalls and wildlife, there's no shortage of amazing sights and experiences to be had in this one-of-a-kind destination.
If you're ready to start planning your adventure, start browsing our Yellowstone tours for more inspiration.
And if you need more information about any of our excursions, please feel free to get in touch.